10 July, 2023, 0 Comments
Get Professional PowerPoint Design Services to Make an Impact
In this article, we will talk about Professional PowerPoint Design Services.
The visual element of a professional presentation plays a crucial role in conveying information effectively.
By utilizing a well-designed and visually appealing PowerPoint, you can present your content in a compelling manner and have a greater impact on your audience.
If you are in need of professional PowerPoint design services, we are here to assist you.
Professional PowerPoint design services provide you with the expertise and creativity to transform your ideas into visually stunning presentations.
Our team of experienced designers will work closely with you to understand your objectives and tailor the design to match your branding and style.
Whether you need a corporate presentation, sales pitch, training material, or any other type of presentation, our services can elevate your content and make it stand out.
You can use the Do My PowerPoint team presentation services.
Expert PowerPoint Design Services for Engaging Presentations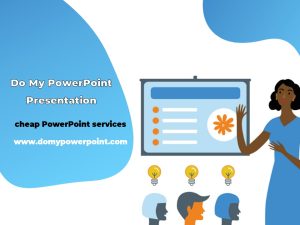 Our process begins with a thorough analysis of your content and target audience.
We take into consideration the key message you want to convey and the visual elements that will enhance it.
Our designers then craft custom layouts, choose appropriate color schemes, and integrate visually appealing graphics, charts, and images.
We pay attention to every detail, ensuring that your PowerPoint slides are visually cohesive, easy to follow, and engaging.
In addition to design, we also optimize your PowerPoint for search engines.
By incorporating relevant keywords, meta tags, and optimizing file sizes, we help improve the discoverability of your presentation online.
This can be especially beneficial if you plan to share your PowerPoint on websites, social media platforms, or through email campaigns.
With our professional PowerPoint design services, you can save time, elevate your presentations, and leave a lasting impression on your audience.
Let us take care of the design aspect, allowing you to focus on delivering your message with confidence and impact.
Contact us today to discuss your PowerPoint design needs and take your presentations to the next level.
Captivate Your Audience with Stunning PowerPoint Presentations
We understand the importance of a well-crafted PowerPoint presentation that captures attention and delivers your message effectively.
Our professional PowerPoint design services offer a range of features to enhance your presentations and make them visually compelling.
First and foremost, our team of skilled designers will collaborate with you to understand your goals, target audience, and the key points you want to emphasize.
We believe that every presentation should have a unique and customized design that aligns with your brand identity and style preferences.
Our designers will create a cohesive visual theme for your PowerPoint, incorporating your logo, colors, and fonts to ensure consistency throughout the slides.
We will carefully select high-quality images, icons, and graphics that enhance your content and make it more engaging.
Additionally, we pay special attention to the layout and organization of your slides.
We ensure that the information flows logically and that each slide complements the overall narrative of your presentation.
Clear and concise text, coupled with impactful visuals, will help you deliver your message with clarity and professionalism.
Our expertise extends beyond design aesthetics.
We optimize your PowerPoint for optimal performance, ensuring that it runs smoothly and efficiently.
Get Professional PowerPoint Design Services to Make an Impact
We take care of file compression and optimization to minimize file size while maintaining the visual quality.
This is particularly important when sharing your presentation digitally or via email, as it reduces loading times and ensures compatibility across different devices.
Moreover, we can assist with adding interactive elements to your PowerPoint, such as hyperlinks, animations, and embedded multimedia.
These features can add an extra layer of interactivity and engagement to your presentation, captivating your audience and keeping them focused.
When you choose our professional PowerPoint design services, you can expect timely delivery, attention to detail, and a commitment to exceeding your expectations.
We work closely with you throughout the process, incorporating your feedback and making revisions as needed.
Investing in a professionally designed PowerPoint presentation will elevate your content, leaving a lasting impression on your audience.
Whether it's for business meetings, conferences, educational purposes, or sales pitches, we are dedicated to creating impactful visuals that amplify your message and help you achieve your objectives.
Contact us today to discuss your specific requirements and let our team of experts bring your PowerPoint presentations to life with professionalism and creativity.
You can also refer to the presentation design price page to receive the design costs of PowerPoint slides.